24 Hours at The Harland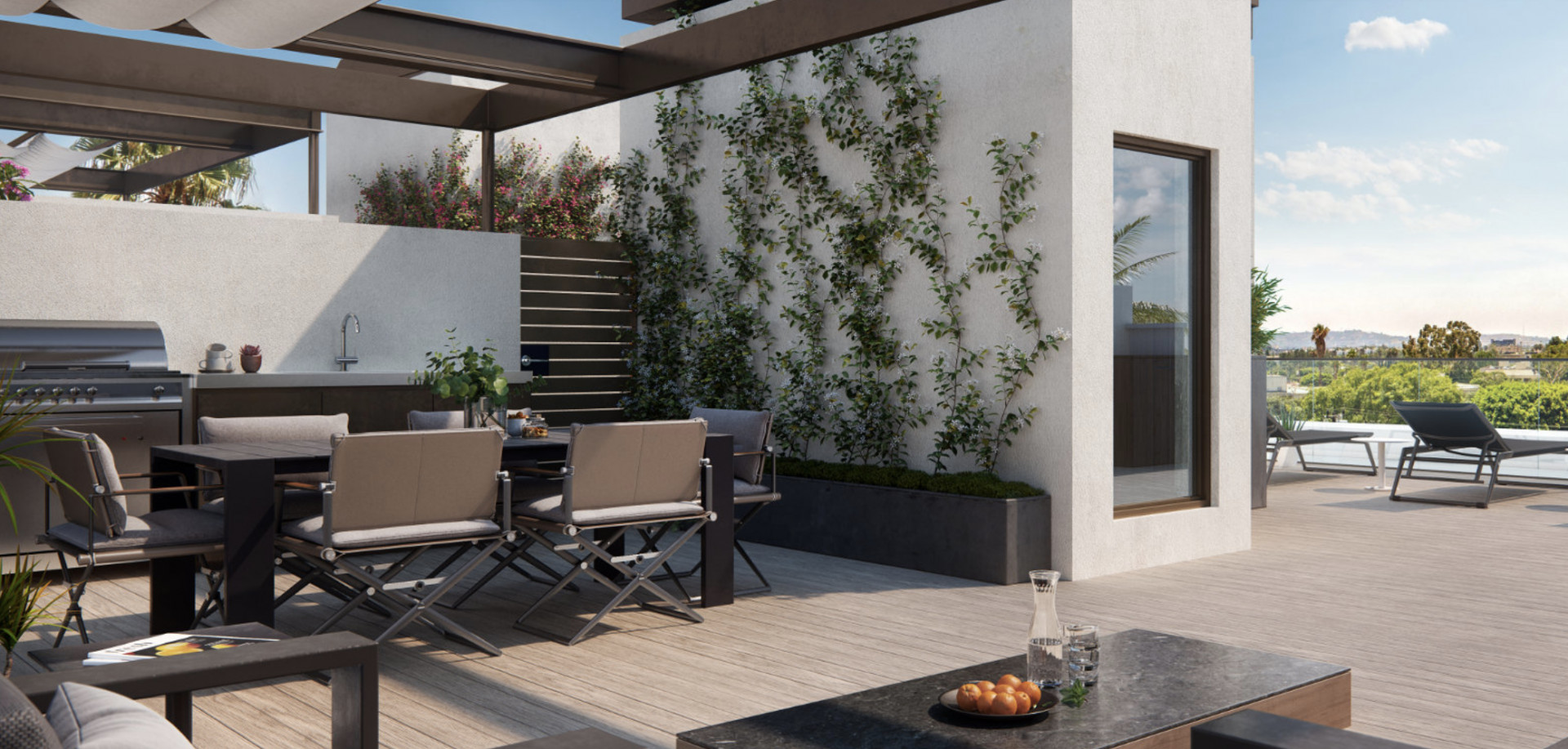 The Harland West Hollywood
August 21, 2018
There's a distinctive West Coast glamour that pervades life in West Hollywood, even when you're going about your weekly routine. Something about the light and rich creative history of the city fills you with a sense of luxurious possibility. The sleek, minimal design of The Harland and its optimal location offer a chance to live in the midst of this possibility every hour of the day.
A collaboration between Marmol Radziner and R&A Architecture + Design, The Harland blends indoor and outdoor living spaces that seamlessly move between gardens and interiors without breaking a meditative reverie that comes from functioning within an exquisite design. There is so much to enjoy both in The Harland and in the neighborhood that you're able to achieve a harmony and balance between city life and quiet luxury.
You can wake up in an impeccably appointed residence and greet the sun on your expansive balcony, patio, terrace, or garden. And you can power up your day taking advantage of The Harland's on-site world-class fitness center, practice poses in the yoga studio, do some strength training, or get in a round of cardio on spin bikes before you head out to enjoy another adventure in the heart of West Hollywood.
Living in one of the city's most walkable areas means you can start making the most of what The Wall Street Journal calls "L.A.'s Hottest New Real-Estate Amenity: Walkability." As discerning buyers are beginning to recognize, a walkable Los Angeles can be quite beautiful, and strolling to some of the city's best eateries, fashion houses, and art galleries is its own form of urban luxury. In West Hollywood, your favorite local haunts will start to feel like an extension of your home at The Harland.
Croft Alley is the perfect place for a leisurely breakfast of truffled eggs or a lunchtime meeting. West Hollywood and nearby Beverly Hills are also bastions of international fashion and upscale shopping at places like Chloe, Stella McCartney, and Balenciaga, where a dress becomes a work of art, or A.P.C., where the French minimalist look will complement The Harland's modernist aesthetic. The Gagosian gallery, an international powerhouse in the art world, is just one of many nearby galleries and museums where you can find inspiration and the right piece for your collection at your home in The Harland.
Before dinner, you can wind down with a poolside cocktail at the Cabana Cafe at the Beverly Hills Hotel and then soak in the classic Hollywood vibe at Delilah. Or, if you feel like flexing your culinary muscles, you can take a dinner party to the next level back home in The Harland's exhibition kitchen with private dining room and enjoy a post-meal private viewing in the screening room. When the movie is over, you can play a few rounds in The Harland's Brunswick-designed bowling alley.
The rhythm of your days will be a constant discovery, and The Harland's indoor/outdoor design will surround you with contemporary luxury and a deep connection to the natural world every night.
Read Full Article